What I learned was that tight hamstrings are indicative of a larger body-wide problem. Focusing on just hamstrings is not going to get you very far. The real underlying body-wide problem has people literally "wound up tight" from the inside out. After years of working with this, I have come to believe that most people can feel pain-free and better than they even believe may be possible.
I ended up feeling lighter, freer, less pain, better posture, better sleep, and even more athletic after discovering the solution and applying the tweaks we're going to talk about. I'm still early with my progress. But with all my years of struggling, I learned how to accelerate progress.
Let me explain to you how I discovered the "tweaks" that need to be made.
For that, we need to discuss the "myofascial system." "Myofascial" is a trendy term these days, but it's important to understand some things about it as we move forward. The term "myofascial" refers to two parts: muscle and fascia. Fascia is an elaborate body-wide system of connective tissue.
Fascia is described as "A continuous, whole-body, three-dimensional matrix of structural support." Fascia aids in the transfer of forces throughout the body as we move dynamically through gravity. It plays a significant role in posture and when dysfunctional... bad posture. It takes more than just the skeletal system to maneuver through all the forces of day-to-day living on our planet.
Fascia goes into and envelops every muscle, bone, nerve, organ, and interconnects the body. It doesn't just envelop the muscle, it envelops every muscle fiber. Fascia is the anatomic structure that connects everything to everything else. We're not going to cover all the roles that fascia plays here. We will cover the ones that pertain to helping you get your muscles and body to feel better.
One of the roles that fascia plays is that it allows muscles to glide over each other when muscle(s) contract. Fascia has been described as "wet ice sliding on wet ice." Even within a muscle where some cells contract and others do not, it is the fascia that allows for "microgliding."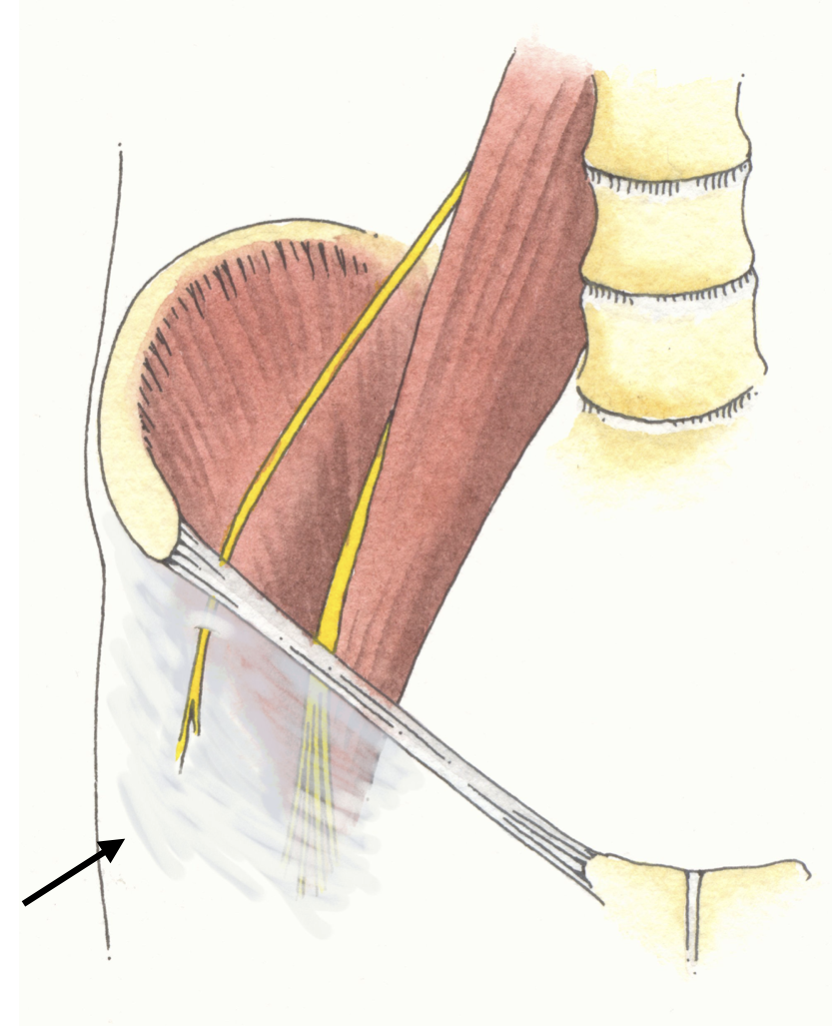 An important trait with fascia is that, unlike muscles, fascia is NOT stretchable. Many people, including doctors, believe fascia is stretchable and that is a myth. While having some elastic properties, the fascia will not stretch over time. Our organs suspend via fascia from the cranial base. If fascia was stretchable, all our organs would sag more and more over time. Fascia, may have elasticity in it, but it is not stretchable.
"But how do muscles and fascia work together?" That is not something I ever hear anyone else describe and it's key to getting results.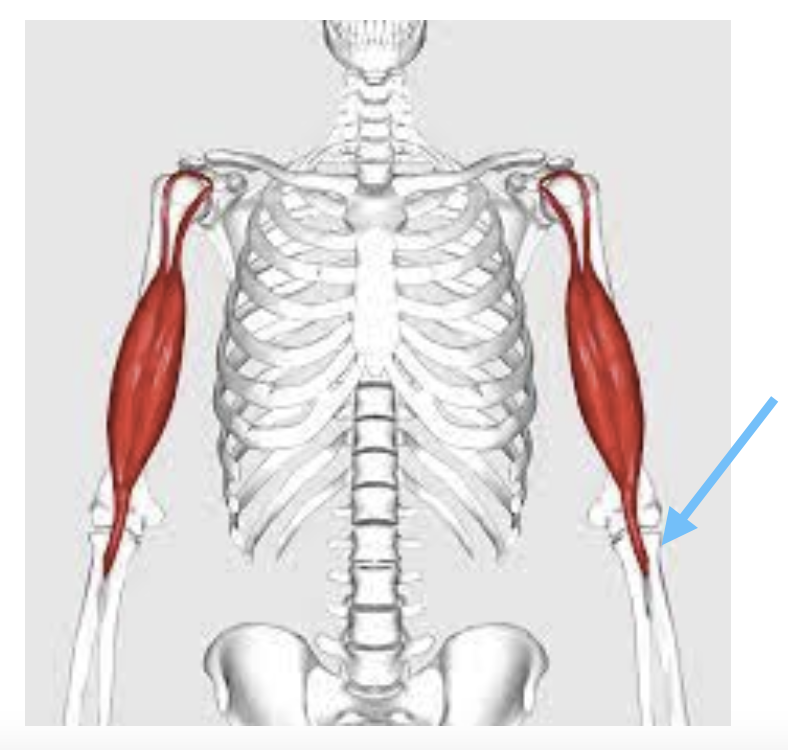 Have you ever looked at muscles and where they attached and thought, "That looks inefficient, the physics doesn't seem to work out?" Let's look at the biceps muscle for example. One of its tendon attachments is just beyond the elbow joint.
I was previously taught that the muscle did all the work, but that's not the complete picture. When a muscle contracts, it pulls the fascia attached to it, bunching it up, towards it primarily in the direction of the muscle fibers. By doing that, the fascia acts like "tension rods" tensing up the rest of the forearm. This increases the efficiency of the muscle contraction so even with the tendon attachment being close to the joint, it can still produce a significant force.
When the muscle relaxes, the fascia it had "bunched up" is let go and has less tension on it. Because fascia is continuous throughout the body and not stretchable, a muscle contraction will affect the whole continuous fascial system.
What we have just described is normal, healthy function. But this is not what you most likely have going on in your body.
"What happens if the muscles are stuck in a chronic state of partial contraction?" These are the ropey-feeling muscles that are painful to touch. These are parts of muscles that are unable to relax when they should be relaxed. These muscles are stuck in a state of "chronic contraction."
A muscle that is stuck in this chronically contracted state is unable to relax and will pull the fascia in towards it permanently. Unable to let it go increases the bodywide fascial tension, ever so slightly. So far we have only talked about one muscle, but no one ever has just one tight muscle. Most people have MANY of them.
What happens if we have a multitude of chronically contracted muscles throughout the body?
The fascia, not being stretchable, will be tightened throughout the body by many, many muscles. The result is that movement will require more effort from within, be less efficient, and posture would be affected.
Fascia is also highly innervated, meaning it has a rich nerve supply. I have observed and experienced that the tighter fascia is would up throughout the body, the more sensitive a person is to pain.
There is also another phenomenon that I believe is happening. Have you ever tried to stretch your hamstrings and found it painful in a different way than your other muscles? Many of my patients and I have described feeling that before.

So why are the hamstrings so painful when stretched for some people? I believe the answer lies with the sciatic nerve (the main nerve of the legs) of the legs getting overstretched. This becomes a form of "nerve entrapment." Much of the nerve is made up of fascia that surrounds the nerve fibers and bundles forming sheaths for the nerve fibers to glide through.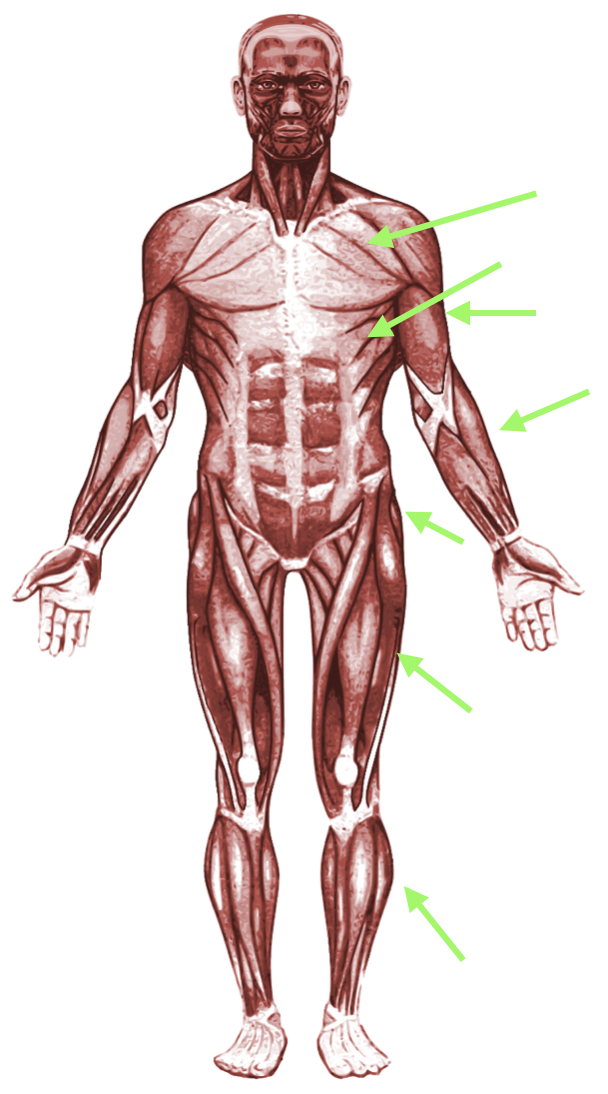 Because of the continuity of fascia, the nerve can be affected when the myofascial system is dysfunctional. That's why for some, stretching the hamstring is painful behind the knees and down the calf. The pain is specifically following the sciatic nerve in the legs.
"But doesn't stretching or other bodywork already resolve this?"
In some cases "yes," and in some cases "no." A common way that people are trying to resolve muscle tightness is with stretching. Static stretching itself has little to no effect on getting the muscles to relax and become less painful and ropey. In the cases of a chronically contracted muscle, consistent stretching often just irritates the muscle.
I have never in my practice observed static stretching to release the associated fascia or nerve. Any progress made with static stretching is lost quickly. I have a patient who stretched every day for over a decade afraid that if he missed a day, it would intensify his pain. Another consideration with stretching is that it increases one's risk of injury if done before exercising.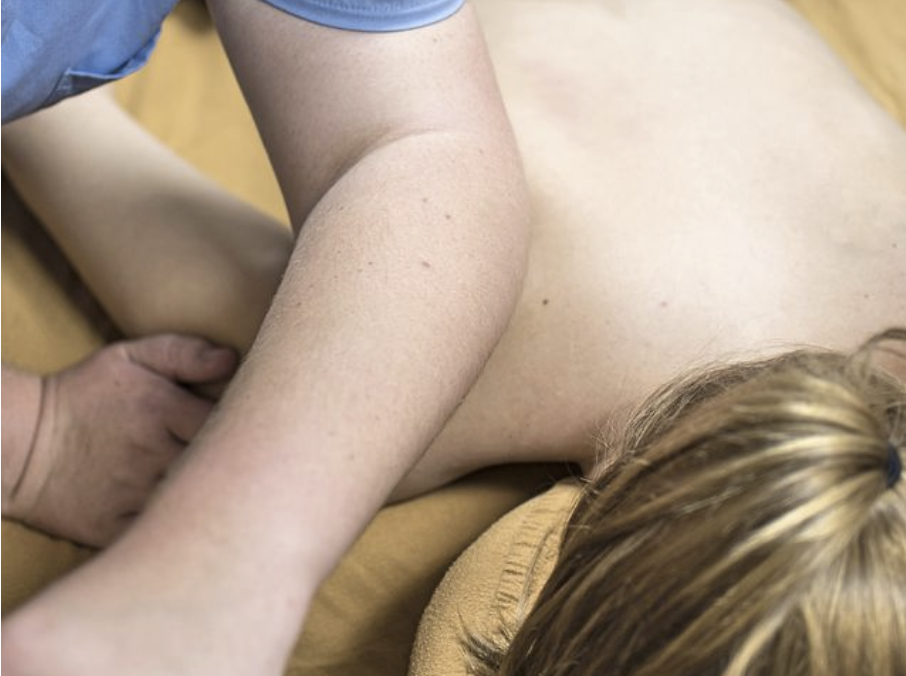 Another common way people try to resolve muscle and fascial tightness is with bodywork. Many different kinds of specialists deal with fascia from massage therapists to osteopathic physicians. I have experimented and have never experienced personally or observed that chronically contracted muscles respond and release with pressure. Many people think they need someone to aggressively push into their tight muscles. The reality is that it doesn't work.
Other fascial specialists work by stretching the fascia either with their hands or their "torture" tools (as some patients call them). Although this does help to release some fascia, these methods are limited, in my opinion, to more superficial layers of fascia.
I have not observed that these methods work to release deeper muscles. The hamstrings, psoas, and many other culprits of pain generally do not respond to this. So although helpful, these methods are limited in my opinion. Even other things like trigger point injections don't work to break up the myofascial tension in a chronically contracted muscle long term.
So is there anything that does work? An ideal myofascial release would be capable of releasing muscles, all the layers of fascia, and nerves. It would be capable of getting results throughout the whole body. Most of all, results would be permanent with an ideal form of myofascial release.
This kind of release did not exist until now! Best of all, it's simple and can be done from home.
Introducing Global Active Myofasical Stretching (GAMS)
I named it this because it releases and uses as much of the whole body as possible with an activating force to trigger releases of muscles, fascia, and nerves.
The idea with GAMS is that we want to use and release tight and tense muscles and fascia throughout the whole body in a way where not only do we get a change, but a long-lasting change.
With GAMS, we will:
Stretch a muscle or group of muscles
Wind up the fascia throughout the body as best as we can
Use an activating force as a release
The exact underlying mechanism, whether it is releasing adhesions between fascial layers, a reflexive change, or something else is unknown. What we do know is that many people are experiencing long-term muscle relaxation, pain relief, and improved flexibility. On top of that, they are maintaining the progress they make long-term, even if they stop for months at a time.
What Do You Get With The GAMS Program?